[Fright Night]Special Night-Monday March 26th-GRINDHOUSE!!

Next Monday March the 26th, Special Fright Night Event in Los Angeles, Ca
Fright Night goes to the Grindhouse!!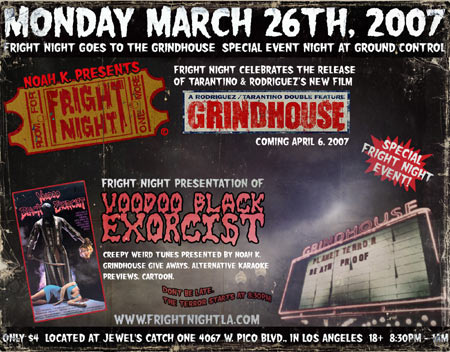 A Grindhouse film, trailers, cartoon, Grindhouse Giveaways, alternative karaoke. All for only $4.


Join the Fright Night Communities
Live Journal
Yahoo EGroup
MySpace




Fright Night celebrates the release of Tarantino & Rodiguez's new film
GRINDHOUSE.





This special one time event will be held at
GROUND CONTROL alternative karaoke.
No one under 18 will be admitted.


Only $4 (What a Bargain!)
Located at Jewel's Catch One
4067 W Pico Blvd
Los Angeles Ca
Door open @ 8:30pm
The Terror Begins at 9:15pm
18+, *21+ w/ID
It will scare the YELL out of you!
http://www.frightnightla.com/
Now with photos!



Join the Fright Night Communities
Live Journal
Yahoo EGroup
MySpace